8 Red Flags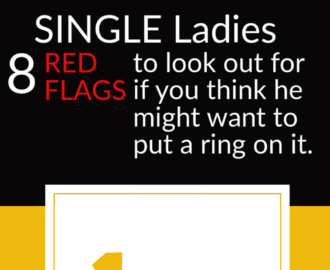 SINGLE LADIES
8 red flags to look out for if you think he might want to put a ring on it.
12 Things To Do In The New Year That Will Make Your Marriage Thrive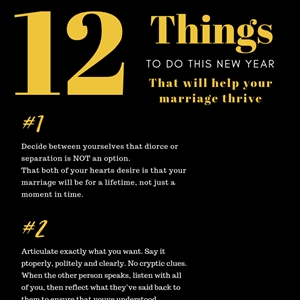 Write the vision, and make it plain upon tables, that he may run that readeth it.
'THE BOOKS' Habakkuk Two Two
DO YOU HAVE SPECIFIC GOALS WRITTEN DOWN FOR YOUR MARRIAGE AS WE ENTER THE NEW YEAR?
A Harvard Business Study found that 83% of the population do not have goals; 14% have a plan in mind, but goals are unwritten; and 3% have goals written down. The study found that the 14% who have goals are 10 times more successful than those without goals. The 3% with written goals are three times more successful than the 14% with unwritten goals.
WRITING YOUR GOALS DOWN SETS YOU UP TO BE exponentially more successful." As the saying goes, 'If you fail to plan, (the truth is) you plan to fail"
I HOPE THIS RESOURCE FOCUSES YOU AND I. You can of course adapt it and tweak it as you see fit so it works with your particular circumstance, as every marriage is as unique as the individuals that are in it.
DO LET ME KNOW if you find it useful.
Something For The Singles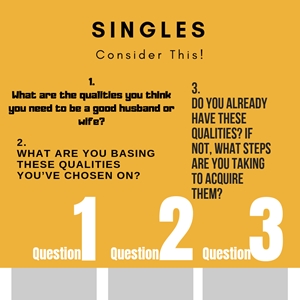 Marriage! A lot of people look forward to the day that they'll meet their 'soulmate' the life-partner of their dreams.
BUT
Are we making the right decisions about who that person is, are we asking the right questions of ourselves and others to ensure that we are- making the right decisions that is.
Many people are going into marriage half-whole,with no full sense and grasp of what they are, who they are, what they truly want. Not knowing what marriage is and what it most definitely isn't.
This resources starts with just 3 basic questions, that underpin so many others.
Download it, fill in the answers to the questions in the blank spaces, and embark on a journey to the life-long commitment of marriage.